Recipe: Leftover Thanksgiving Turkey Stew
The dilemma of what to do with all that leftover Thanksgiving turkey has stumped Americans for ages. The most common route is to make turkey-cranberry sandwiches – which is satisfying for a day or two, but gets pretty old quickly.
Lucky for us, our very own Curator of Style, Bonnie (see right-hand column) has a delicious Thanksgiving Turkey Stew recipe. "It's so easy to make, and is especially delicious when you serve it with a baguette to soak up the juices!" she says.
For a wine pairing, she recommends a 2008 Donum West Slope Pinot Noir from the Carneros Region of Northern California.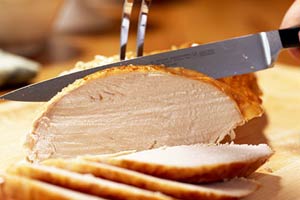 Leftover Thanksgiving Turkey Stew
Ingredients
1 Tbsp Olive Oil
1 canned chipotle chile in adobo sauce
1 cup finely chopped onion
1 cup finely chopped celery
1 cup finely chopped carrot
4 tbsp. garlic – minced
2 tsp. chili powder
3 cups leftover turkey – shredded
4 cups fat-free, less sodium chicken or turkey broth
1 cup tomato sauce or puree
1/2 tsp. black pepper
1/2 tsp. salt
1 15.5-ounce can hominy or white beans
Instructions
Heat oil in saucepan over medium high heat.
Finely chop chile. Put the chile & the next 5 ingredients in a frying pan. Saute 5 mins or so – until tender.
Add remaining ingredients and bring to a simmer.
Cover and cook 45 mins. or until slightly thick.
Top with cilantro, shredded cheese & sour cream to serve. Enjoy!